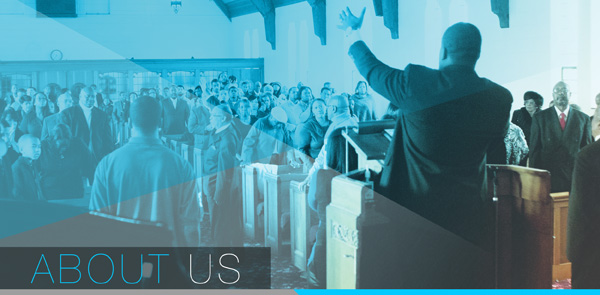 Our History





Central was founded in February of 1944. Our first worship services were held in Moore School in Detroit, Michigan. In November of 1944, Reverend William J. Bishop was asked to serve as the church's permanent Pastor. Our first church's building was located at 2520 Buchanan St. Detroit, Michigan, 48208. This was our Church home for more than 30 years.





Under the leadership of Dr. Bishop our Church flourished in many ways. The ministries of the Church were established and many of those same ministries are still standing strong today. We were a family church that was focused on building the kingdom of God. In October of 1983, Dr. Bishop led our church triumphantly into a new worship facility. We moved into a new location at 15170 Archdale St. in Detroit, Michigan, where we currently worship today.

A few years after moving into our new location, Dr. Bishop's health began to fail. Dr. Bishop retired as the Pastor of our Church in January of 1986 after having served for more than 40 years. Dr. Bishop passed away in June of 1987.



In August of 1987 the Church selected from within its ranks the Reverend Clayton Smith to serve as the next Pastor of our Church. Under his leadership the Church remained a strong congregation growing in love for each other and in fellowship.

During Reverend Smith's tenure as Pastor the following things were accomplished:

The Church's mortgage was paid off

The Church established the William J. Bishop Scholarship Ministry

Several Improvements were done to the Church building

The Church purchased the space next to our building to add nearly 100 more parking spaces

Under the leadership of Rev. Smith so much more was accomplished including many new members, baptisms, weddings, dedication of babies and children and countless lives changed through the preaching of the gospel. In July of 2012 Rev. Smith resigned as the pastor of our church.

After Rev. Smith's resignation, Central was left without a shepherd. The Trustees, Deacons, and an Interim Pastor kept the work of the church moving forward. During this time of uncertainty the Church prayed and sought God as to what the future would hold for this rich and loving church. During our time without a pastor, church attendance declined to an all-time low. Excitement and participation was low. During this season the future of Central was in the hands of God.

On Sunday October 14th, which was the churches Annual Mission Day, a young 25-year-old preacher, Rev. Robert E. Bolden of Triumph Church was asked to be the guest speaker. No one in the congregation had heard him preach and no expectations were attached to this day. After Rev. Bolden finished his sermon, speculation surfaced that we may have found our next Pastor. Rev. Bolden was asked if he would be interested in being considered to be the church's next Pastor. Rev. Bolden agreed to engage the church in conversation. Rev. Bolden preached several more times and was interviewed and compared against several other eligible candidates. After a 6 month selection process, the Church was finally ready to make a decision. On Sunday, April 7, 2013 the church selected The Reverend Robert E. Bolden to serve as its next pastor with nearly a 90 percent majority. With no time to waste, Pastor Bolden's first official Sunday was on Sunday, April 14, 2013. He was officially installed on Sunday, June 30, 2013.

Though Pastor Bolden has only been our Pastor for a short period of time he has meshed well with our membership and our leadership. Under Pastor Bolden's leadership hundreds of people have joined our church. The fact that so many people have been baptized and recommitted to Christ, through our church family, assures us that we are headed in the right direction. There is a new level of energy and excitement that has filled our church. Though much has been done there is still much to do. We are not sure what the future holds for us as a church, but we know that our future is bright. The road ahead looks better than the road behind us. We believe that God is up to something good.