Pastor Spencer T. Ellis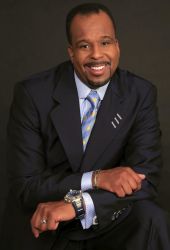 Spencer T. Ellis serves as Founder and Senior Pastor of Citadel of Praise Ministry. The Lord began dealing with Pastor Spencer in the 2003, pressing upon him that he was calling him into his own ministry. The Lord pressed upon his spirit that he was chosen for such a time as this and that God had a people in Detroit for him to lead and nurture in the ways of the Lord. Subsequently, after much fasting and praying, Citadel of Praise was started in July of 2005.

Within its first year of ministry, under the leadership of Pastor Spencer, Citadel was blessed to purchase 5 acres of land and properties which includes a church, administration offices, elementary school, and former convalescent home. He is currently writing his first book, entitled, "Me, God, and My Destiny."

Prior to establishing Citadel, Pastor Spencer served as Assistant Pastor of Greater Grace Temple church where his brother, Bishop Charles Ellis, is Senior Pastor. As an Assistant, he assisted the Senior Pastor in leading parishioners in their walk with Christ through preaching, teaching, and counseling. He has been blessed to serve and mature in ministry under two of God's dynamic leaders, his father, the late Bishop David L. Ellis; and Bishop Charles Ellis.

Pastor Spencer was born to the Bishop David L. and Ms. Wilma Ellis. He is married to Tracey Ellis and is the father to their children, Avery Rose and David Lee.

Pastor Spencer graduated from Cass Technical High School in Detroit, MI and attended Morehouse College in Atlanta, GA where he received his Bachelor of Arts degree. He received a Master of Business Administration degree from Lawrence Technical University. He received his Master of Divinity degree from Trinity Theological Seminary. He received his Ministerial and Ordination certificates from Aenon Bible College. He received an Honorary Doctorate of Divinity degree from St. Thomas Christian College in Jacksonville, FL.

He serves as a Chaplain for the Wayne County Sheriff Department. He is a member of the Alpha Phi Alpha Fraternity. He previously served as a Board Member of the Evergreen Children Foster Services and as a member of the Board of Ethics for the City of Detroit.

Pastor Spencer is known for his humility, charisma, love for all people, and great sense of humor. As a child, he was labeled "Mr. Personality". He is a powerful preacher that preaches to the heart and the reality of those who hear. God has tremendously blessed Pastor Spencer both naturally and spiritually. God has allowed him to encourage many souls through preaching and teaching in the United States, Canada, Africa and Jamaica.