Lady Tracey D. Ellis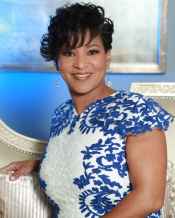 Tracey D. Ellis is a wise and vibrant young lady that loves God and God's people. God has blessed and gifted her with an innate ability for business. She is a graduate of Ferris State University with a Bachelor of Science degree in Accounting. She has been a Certified Public Accountant since 1998. She has worked in the accounting field for over 15 years for both profits and non-profit corporations.
Tracey is currently employed as the Corporate Controller for Greater Grace Temple. During the past six years, she has served as Accountant Director for the Pentecostal Assemblies of the World organization, under the leadership of Presiding Prelates, Bishop Norman Wagner and Bishop Horace Smith.
Tracey has served and worked in various ministries in her former church, Greater Grace Temple, under the leaderships of the late Bishop David L. Ellis and Bishop Charles H. Ellis, III. Those ministries include usher, hospitality, finance, youth ministry, and as a Trustee.
Tracey is the founder and President of Yecart Accounting Services, which provides accounting services and consultation to corporations, small business, and non-profit entities. She has been blessed to travel around the country implementing and updating financial procedures and systems for churches.
She serves with her husband as Business Manager of Citadel of Praise and as a Counselor of women. She has been called by God to help and aid hurting women, leading them into a new attitude and relationship with Christ. She is married to Spencer T. Ellis and the proud mother of two children, Avery Rose and David Lee Ellis.