Easter 2018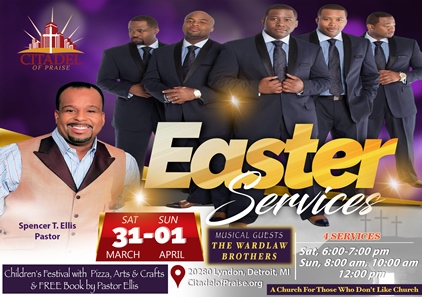 Where is Citadel located?

Citadel if located at 20280 Lyndon, at Evergreen, on the northwest side of Detroi

t, MI




What are the Easter services times

?

Saturday: 3/31, 6:00 until 7:15 p.m.

Sunday: 8:00 until 9:30 a.m.; 10:00 until 11:30 a.m.; and 12 until 1:30 p.m..




We have plenty of parking lot spaces, street parking spaces, and handicap parking.




What is your Easter attire

?

Easter services at Citadel is casual-dress. However, we do respect everyone's decision to dress how they like.




Are their Easter activities for kids

?

We are planning a special Easter festival during our 10 and 12 noon services. The festival will include games, arts and crafts, pizza, nachos, and each child will receive a free book written by Pastor Ellis. Children's activities are for ages 12 and under.




Who are the Wardlaw brothers

?

The Wardlaws are 5 blood brothers from Georgia. The boys can sing!!! Check out the Wardlaw brothers at their website at

www.twb5.com.




What services will the Wardlaw brothers be singing?




What services will Pastor Ellis be preachin

g?




Can I attend more than one service

?

Yes. Attend as many as you like. Come early to get a good seat.




Can I speak with Pastor Ellis while I'm there

?

Pastor and Lady Tracey Ellis do the best they can to greet everyone after each service. But because of time constraints, they can't have long conversations.




I can't make it on Easter weekend. What are your normal services times

?

Sundays: 8:00 until 9:30 a.m.; 10:00 until 11:30 a.m.; and 12 until 1:30 p.m.

Tuesdays: 12:00 until 1:00 p.m. and 7:00 until 8:15 p.m.