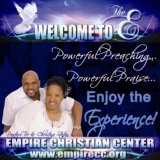 Empire Christian Center is a Non-denominational, Word of Faith Church located in Albany, the Capital of New York State. Since our establishment in December 2003, ECC has grown into a vibrant, healthy, and strong multicultural congregation.
At ECC you will discover the joy, freedom, peace, healing, and abundance that comes as a result of serving and living for God. Through simple and easy to understand messages, your Bible knowledge will be expanded, your faith will be increased, and your life will be forever changed.
Energetic praise and worship, practical Bible teaching, and relevant age-appropriate programs are all here at ECC. This is the place where there is something for everyone and everyone is WELCOME!