Pastor Jones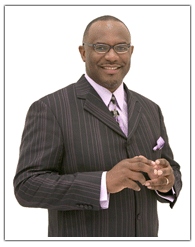 Pastor Horacio "Ray" Jones was born on June 13, 1961 in Oceanside, CA and began his tenure in ministry at the age of 21. He is a graduate of Mt. Pleasant High School, San Jose, Ca. Pastor Jones is currently completing studies toward a Master's of Divinity Degree from Golden Gate Baptist Theological Seminary, Mill Valley, Ca.

Pastor Jones is married to Florence V. Jones (formerly Florence V. White). Together they have five children: four sons, one daughter and a precious grand-daughter.

Pastor Jones is the founding pastor of Family Bible Fellowship (formerly Fremont Bible Fellowship) of Newark, Ca., where he has faithfully pastored since 1988. Family Bible Fellowship has been recognized as a leading and cutting edge ministry. Inspired by Luke 4:18-19, Pastor Jones established the Tri Cities Community Development Center in 2002 The mission of TCCDC is to help low income and low to moderate income women, men, youth, families and communities to move in a positive direction towards healthy lifestyles, personal empowerment, educational development for our youth, re-assimilation for ex-offenders and to reduce the stigma of mental illness in the African American community through collaborative relationships with county and consumer agencies.

He currently serves as a Cultural Broker, along with faith leaders from various religious backgrounds for PEERS, Peers Envisioning and Engaging in Recovery Services of Alameda County. Pastor Jones expertise focuses on the African American Christian faith. T.C.C.D.C. has hosted, "Mental Health & Spirituality 101 Training for Faith Leaders, and Mental Health and Spirituality 101 for African American Faith Leaders, addressing the mental health and spiritual needs of our community, in response to the ACBHCS, "African American Utilization Study Report�. Pastor Jones ground breaking curriculum, "A Bridge Over Troubled Waters - The Spiritual Journey of African Americans From Slave Ships To The White House� , educates and gives a historical perspective on the role of spirituality and faith in mental health to facilitate an upstream approach in mental health care for African American consumers and family members.

Pastor Jones' is currently, through The T.C.C.D.C. "Academic Development Program�, is collaborating with local school superintendents and districts to address the achievement gap of African American students. He is fully committed to "Deconstructing the School-to-Prison Pipeline�, that has resulted in more African American men being incarcerated than in institutions of higher learning. In the summer of 2012 the Family Bible Fellowship and Tri Cities Community Development Center was selected by California State University's African American Initiative to host the Summer Algebra Institute SAI, providing culturally responsive intensive tutoring and development in Algebra for African American students.

The Redemptive hand of Christ has directed Pastor Jones to give relevance and practicality to the Gospel of Christ through, "The Living Word Broadcast�, heard daily via the radio locally and on the web globally. Pastor Jones , through his preaching oriented teaching attempts to equip believers to become living examples of the Love of Christ.