Stay Focused ($10.00)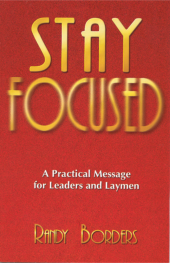 Stay Focused

is a profound work for those who may have at one time or another considered throwing in the towel. Bishop Borders takes relevant passages of scripture and couple them with the wisdom of over thirty years of walking with God.

He identifies with the "process" that God puts us through in making us a priceless work for His glory. He explores the power of focus and the joys of the reward for those who hold on to endure God's process on their path to greatness.
>