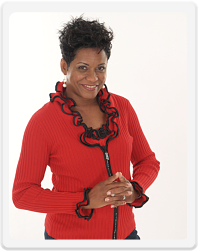 Lady Norma Borders is one of God's 21st Century gems. God has gifted her to minister to the body of Christ with a message that is both practical and applicable. She assists her husband, Bishop Randy Borders, in pastoring Faith Harvest Church in Shelby North Carolina.
Lady Borders is an honor graduate of Midway High School in Dunn, North Carolina. She obtained her Bachelor of Science degree in Economics from The University of North Carolina at Greensboro in 1990, and she is currently pursing her MBA at Strayer University. Her career path led her into Banking where she served as a branch manger with Bank of America in Raleigh, Greensboro, Charlotte, and Cherryville, North Carolina. These positions eventually led to the status of Assistant-Vice President with Bank of America. She left Bank of America upon the birth of her first child to become a full-time homemaker. After an eight year hiatus, she returned to the banking field and now serves as

Mortgage

Specialist of Bank of America.
Lady Borders has a passion for the Word of God. Her greatest joy is to see the Word of God impact the lives of those she instructs. She currently serves as the Director of The Women's Ministry at Faith Harvest Church. She is anointed to share prophetic wisdom and insight with those seeking to embrace their full kingdom purpose.
She is a devoted wife and proud mother of Efrim and Hope Borders. The ministry of Lady Borders is courageous and faith-filled. Like a modern-day Esther, she was born for such a time as this.