Harvest Church Ministries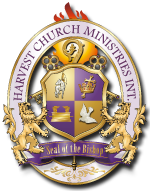 Local churches united to win nations to Jesus Christ
Our Network of Churches

Bishop Randolph Borders, Presiding Prelate




WHERE DID WE COME FROM?


The Word of the Lord came to our Bishop in June of 1993 saying, "There is need for covenantal accountability?" From that moment he began to pray about the establishment of a fellowship of like-mined brethren whose main desire was to see the kingdom of God established and to display a unity among Pastors and local churches. Thus, the concept of Living Word Christian Ministries was born and founded in January of 1994. The name was officially changed to Harvest Church Ministries International in March of 1999.



WHO ARE WE?

HCMI is a nonprofit corporation established to develop and coordinate an affiliation of like-minded, autonomously-governed local churches, ministries, and enterprises.



WHAT IS OUR PURPOSE?

Our purpose is to serve the local church. Our policy is that we not lord over any church.
(1 Peter 5:3) "Neither as being lords over God's heritage, but being examples to the flock." Any participation in HCMI is voluntary submission to the leaders and oversight, which the Lord has given us. We provide fellowship that brings resources together that's beyond your local fellowship.

Our purpose is to serve with integrity. By being a part of an organization and fellowship, it provides a system of accountability and protection. Absolute Power corrupts absolutely. Every pastor should have someone he/she considers his pastor from whom they can get counsel and instruction. And every church should have a fellowship that provides training in ministry, guidelines for financial credibility, and corporate home and foreign missions.
For more information please call 704-487-WORD (9673)