FHC Partnership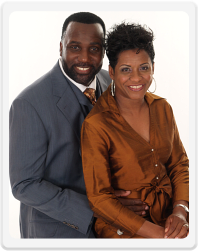 Harvest Church Partnership Sign-up
with Bishop Randy and Lady Norma Borders

My wife, Norma, and I give God all the praise and glory for the work He is doing through Faith Harvest Church, Covenant Harvest Church and Harvest Church Ministries International. We know that the Lord Jesus Christ Himself is the senior partner in all of our endeavors. As he issues the orders, we simply obey and enjoy the fruits of obedience. The purpose of this ministry is to do our part to fulfill the scriptures. Luke 10:2 "Therefore said he unto them, the harvest truly [is] great, but the laborers [are] few: pray ye therefore the Lord of the harvest, that he would send forth laborers into his harvest."

John 4:35 "Say not ye, There are yet four months, and [then] cometh harvest? Behold, I say unto you, Lift up your eyes, and look on the fields; for they are white already to harvest."

After more than 23 years in the ministry, we are coming into our full strength. Our call in this hour is to bring the Body of Christ into its full maturity as well. Just as Jesus increased the number of disciples from 12 to 70 in order to expand His mission, so the Lord has directed us to invite partners in this vision. We are asking you to pray about becoming a "Harvest Partner." We believe that God is calling many people to work together with us in His plan to preach this gospel around the world. May God's
richest and best be yours.

Partnership Benefits

As you share your heart, prayers and resources in partnership with this ministry, we pray and believe that you will partake of the revelation, anointing, healing, victory and prosperity that are upon this ministry.

AS A PARTNER, YOUR COMMITMENT IS:

Pray for this ministry regularly.

Support this ministry with a monthly financial commitment.

Support Harvest Church meetings in your area

Always uplift the ministry with faith filled, positive words.
AS A PARTNER, YOUR BENEFITS ARE:
Regular prayer from this ministry for your success and victory

Monthly letter from Bishop Borders

Monthly CD teaching by Bishop Borders

Official Harvest Church Partner "Lapel Pin"

Official Harvest Church Partner Membership Card that enables you to a 20% discount on any of Bishop Borders' products ordered from this ministry.

Most importantly, you will be sowing into and connecting to an anointing that has proven to produce harvests.
If you have any questions about our Harvest Partnership Program, please contact our Harvest Partnership Director, Laura Borders at

LauraBorders@faithharvestchurch.org
.


Please Sign up below: