Books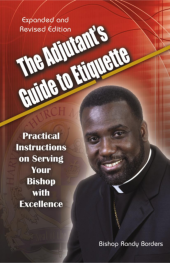 Adjutants Guide to Etiquette is Currently Out Of Stock

The Adjutant's Guide to Etiquette was written for the purpose of providing practical instructions for maintaining a servant's heart. An adjutant is a military term for a staff officer who assist a commanding officer in issuing orders and performing tasks. Bishop Borders actually provides How To's on serving a Bishop, Pastor, or Church Leader.

From the dealing with the heart of a servant to the providing an actual list of duties associated with serving; He answers age-old questions with the serving a leader with dignity and integrity. This Book has been used all across America and the United Kingdom.