Bishop Reginald L. Steele, Sr.
---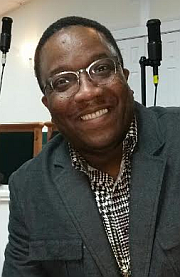 Bishop Reginald L. Steele, Sr. is a native of Columbia, SC. He is the son of Mr. and Mrs. L.B. Steele. He received his formal education in Columbia. Bishop Steele is a 1986 graduate of Lower Richland High School. He furthered his education by studying at Morris College in Sumter, South Carolina.

Bishop Steele is married to the former lovely Darla Richardson. To this union they have been blessed with three sons, Reginald L. Steele, Jr., Ryland Isaiah Steele, and Richmond Josiah Steele.

Bishop Steele has been in the ministry since his early childhood. His first love was singing Zion's songs. The Lord then blessed him with a new love - PREACHING THE GOSPEL! At the tender age of fourteen, Bishop Steele was ordained and called to pastor Fellowship Baptist Church in Columbia, SC. In March 1992, God gave him a vision to organize Grace Church Ministries, Inc. After much laboring, the dream came to fruition on
December 19, 1992. The first worship service was held at this time.

In 2002, the Lord orchestrated a DIVINE connection, allowing Bishop Steele and Grace Church Ministries, Inc. to become affiliated with Higher Ground Always Abounding Assemblies, Inc. Dr. Sherman S. Watkins, Th.D is the Founder and Presiding Prelate and Bishop T.D. Jakes is the Vice Bishop.

Bishop Steele has preached the gospel nationwide, and he is in great demand as an evangelist, revivalist, and gospel preacher. He is also a dynamic shepherd- FULL OF KNOWLEDGE OF GOD'S DIVINE WORD. He truly and sincerely has a heart full of compassion. God has truly anointed him as a prophetic voice for a time such as this. He is a PROGRESSIVE visionary and strives daily to make Christ known to all humanity. His motto is "EXPECT A NEW THING FROM GOD IN YOUR LIFE" (Isaiah 43:18-19).