The Next Step Ministry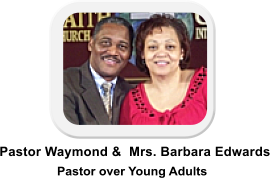 Next Step is a ministry for young adults who are transitioning to the next phase of their life.
For everyone traveling this journey of life with hopeful thoughts toward a better tomorrow, there are inevitable places each of us must face in the coming of age and time. There are milestones for which what lies behind becomes somewhat unsuitable for what is required in the now, and the once familiar terrain we'd known has given way to a meeting a place of sorts for where destiny moments are defined. And what matters most is not so much where you've been or how you've come to arrive there, but the question of the hour now is, "What is the next step?"
For some, this pivotal moment may be a high school graduation. With sights sets on college, the right school, the perfect major, the proper forms and those of such ground-breaking decisions can be overwhelming. Another may be a single parent, who is not only struggling with matters of parenthood but also those means of establishment and security such as housing, employment, and general self-sufficiency. Others, may be couples in the early stages of marriage, who have taken vows between each other and before God and now together value the importance of Godly counsel, fellowship and encouragement as they move toward solidifying what unity means as a whole. The list goes on, excluding no one who is in the crossroads of young adulthood.
Thus forth, having bred a ministry uniquely orchestrated by God through the inspiration of Pastor Waymond and Barbara Edwards who having opened their doors and their time, fostering the needs of everyday people seeking fellowship, support, encouragement and even an opportunity to put to good use the gifts, talents and personal experiences of each one, Next Step was established to be a shoulder to lean on, a hand to hold, a friend to chatter away with, a time of examination and of prayer, where goals are made, life is discussed and hope is embraced by those who know fully well that the Next Step Matters.
"Yet in all these things we are more than conquerors through him who loved us."
Romans 8:37