Our Pastor
---
Apostle Dr. Althea A. Allen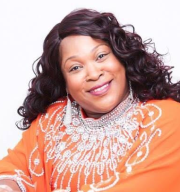 Her Excellency Apostle Dr. Althea A. Allen
, CDKA is the founding Pastor of Kingdom United Miracle Arena, Inc., a nondenominational church located in Maryland, Jamaica, Canada, London, Zambia, and Ghana. She is a healer of nations, visionary leader, and spiritual shepherd to millions of people around the world. Dr. Althea's ministry reaches out to people who have been abused, molested, incarcerated, ostracized or criticized, battered, and beaten. She believes that everyone has an opportunity to come to Christ, and be redeemed to become productive as God has grace to receive him or her. At Kingdom United Miracle Arena
everyone can discover their destiny and God's original plan for their lives.
Dr. Althea was born August 6th on the beautiful island of Montserrat, to Abraham Allen (a businessman and entrepreneur and expert in his field) and Anna Allen (a prayer worrier and minister of the gospel). Before becoming a full time preacher of the Gospel, Dr. Althea A. Allen worked in the hotel industry for more than eighteen years. In 2006 Dr. Allen began her ministry with ten members in the basement of her home in Cheltenham, Maryland. Her desire and aim is to free God's Children from past pains of abuse and hurt, and for them to be delivered by the power that is in the name of Jesus. Because of God's commission to help save, set free, heal and deliver, Dr. Althea launched into full time ministry and since then is solely dedicated to Our Fathers business.
In addition to pastoring Kingdom United Miracle Arena, Dr. Allen hosts annual conferences in Guyana, Trinidad, Germany, Africa, and Romania. Dr. Althea regularly draws capacity crowds at her conferences and ministry events. She has also received several Awards and Honors that were conferred upon her from the FIRST and ONLY Full Gospel Organization to receive accreditation and granted NGO, in special Consultative Status with the United Nations Economic and Social Council (ECOSOC). This is the highest level of accreditation that is as follows: (1) The Doctorate of Divinity (2) Citation and Appointment as Ambassador to the United Nations, at large, CDKA (commander of the Most Distinguished order of the Kingdom Ambassadors) with all rights and privileges (3) Appointed Chaplain Major (4) Chaplaincy License (5) International Chaplaincy ID Card (6) Official International Badge
Dr. Althea's outreach efforts have expanded far beyond the doors of the church. She is dedicated to contributing positively to the society. Dr. Allen has helped to develop farms in Ghana to help feed children who are orphaned. She also helps to feed and clothe 60 orphaned children in Haiti, 40 orphaned children in Zambia, and 20 orphaned children in Cameroon. The ministry is also responsible for giving shelter, food and clothing to families in American and abroad.
Dr. Althea A. Allen is now writing three books: "He is still the Healer", "The fear of God", and "Spiritual Warfare"