Six Ingredients In Prayer ($20.00)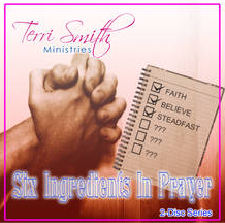 (2-Disc Series)
Are you wondering why it seems your prayers are delayed or unanswered?

Bishop Smith simplifies the process of getting your mind, heart, and speech to align with God's Word resulting in your prayers being answered.

Each relationship in your life is enlightened and exposed to release you to pray without ceasing. This is the series to own to pray through to your destiny.
>