Welcome
Mount Pilgrim Baptist Church


4400 Old Cusseta Road
Columbus, Georgia 31903



The Church that Cares & Shares?


extends an invitation to the new
comers to our city (BRAC)!

Everyone is someone with Christ.
Jesus said, "Whosoever will let them come"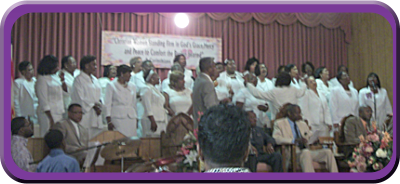 As Peter said in 1 Peter 5:7,
Casting all your care upon him; for he cares for you.

For the past 127 years, God has led us this far by faith. By faith, through His grace, we reclaim the name of Jesus. Mt. Pilgrim is a Bible-based, Christ-centered, and Holy Spirit-led.?

Our Services

Sunday School, 9:30 am
Morning Worship, 11:00 am
Baptism, 1st Sunday, 8:00 am
Lord's Supper, 1st Sunday, during 11am Worship
Bible Study, Wednesday, 6:00 pm
Prayer Hour, Wednesday, 7:00 pm
Baptist Training Union (BTU), Thursday, 5:00 pm
Youth and Young Adult "Friday Night Live", Friday before 2nd Sunday, 6:00 pm

Tune into WOKS 1340 AM Radio
Sundays at 4:00 pm to hear our broadcast
of Rev. J. C. Harris, Sr., pastor
(Known as the Battle Axe)