Our Pastor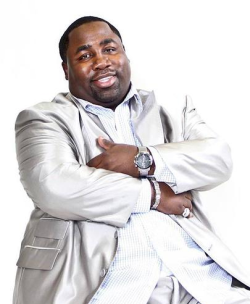 Meet Our Senior Pastor
He's a husband, father, author, mentor, singer, anointed, leader, teacher, and preacher just to name a few of his attributes but most importantly he is a Christian.
A native of Detroit, Michigan Pastor Jennings grew up in a christian home, and he accepted Jesus Christ as his personal savior at the age of six at the New True Vine Baptist under the pastorate of his grandfather.
At the age of twenty one, Pastor Jennings accepted his calling into the ministry and was licensed to preach the Gospel of Jesus Christ. Just three years into the ministry Pastor Jennings was ordained as a 4th generation minister. To prepare himself for the special calling that God placed on his life he received his undergraduate education from Madison University in Gulfport, MS graduating Magnum Cum Laude earning a Bachelor of Arts in English. Pastor Jennings also attended graduate school at the Christian Bible College and Seminary in Independence, MO obtaining a Master of Divinity in Christian Counseling.
In 2007 the Holy Spirit spoke and pressed upon Pastor Jennings to begin a new work, and after much prayer and fasting Pastor Jennings became the Founder and Senior Pastor of New Life Cathedral located in Chicago, IL. In April of 2017 New Life Cathedral (Great Lakes Campus) began in Novi, MI a north west suburb outside the city of Detroit.
Pastor Jennings has been in full time ministry since the age of 24, and he frequently ministers locally and nationally throughout the United States preaching and teaching the Word of God so that people of all walks of life can experience a NEW LIFE in Christ.
Pastor Jennings is a dedicated family man he is married to the former Leslie J. Brazelton she holds a (B. A. from Florida A & M) and together they have 3 beautiful children.