How To Dress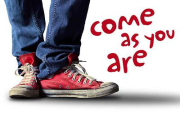 For some individuals when invited to attend a place of worship they might wonder do I have the appropriate attire? Well at New Life Cathedral you never have to worry about your dress attire because there is NO dress code here. You can come just as you are and when you attend any New Life service you will find some people in their Sundays' best, others business casual, sporty casual, and some even in jeans.
Our corcern is for you to be as comfortable as possible as you worship with us. We're more interested in getting to know you, not your clothes. We believe that anyone who shares in worship with us, that you can come as you are, but you will not remain as you are.
We look forward to seeing you in our next service.
WE LOVE YOU to LIFE