Our First Lady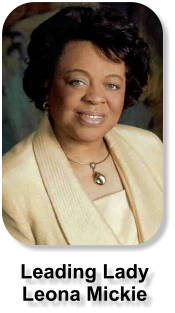 Lady Leona Mickie
Biographic Synopsis
Lady Leona Mickie is the Co-founder of Moving With A Vison Ministries International, and Bible-Way Evangelistic Temple, Okinawa, Japan. She is also the First Lady of New Light Cathedral, Inc., located in Stafford, Virginia. Her relationship with Christ expands over 40 years beginning the Free Gospel Church of Christ, under the tutelage of the Honorable Apostle Ralph E. Green. She ministers a culturally and ethnic diverse message that imparts the spirit of excellence, and purpose into the lives of believers.
Lady Mickie's greatest passion is expressed through her anointed and gifted ability to teach the uncompromising Word of God in a way that is captivating to her audience. Her God given style is a blessing to the body of Christ. She is a woman of character and integrity; one serious about her walk with God. She promotes unity and fellowship in the body of Christ. She is a worshipper and a high-energy praise leader. Lady Mickie has ministered, and spoken at numerous seminars, workshops, retreat, and conferences throughout the United States and on foreign soil. Lady Mickie is knowledgeable in church administration with special expertise in team management, organizational strategies, and concepts for motivating a team. She is very skilled in the area of human resources and staff development.
So much can be said to describe the ministry of Lady Mickie, she is astute, exhilarating, and inspiringâ€"truly she is "A Woman with Wisdom."
She has been married to Apostle Jerlette Mickie for 38 years, She assists her husband around the world empowering the lives of many leaders both men and women to pursue destiny. They are proud parents of one daughter, three sons, three daughter in laws, one son in law, and four wonderful grand children.