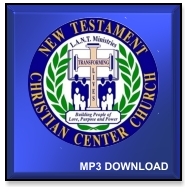 We invite you to purchase from our MP3 library messages that will build your faith. After purchase you will be allowed to download the message in its entirety. You may listen from your computer or burn to a blank CD. We are excited as we are able to move the gospel at reduced prices through technology.
New Testament Christian Center Church is about Building People of Love Purpose and Power through the teaching of the Word of God.
Message By: Dr James Lewis, Sr.

ENJOY !