Pastor Hicks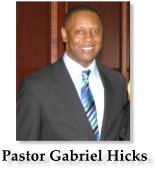 Pastor Gabriel Hicks is the Senior Pastor of Oasis World Outreach in
Americus
,
Georgia
. Pastor Hicks became Senior Pastor October of 2006 after many years of service to the ministry. He serves faithfully as a son and a pillar, under the oversight and leadership of founder and presiding Bishop, Dr. Wayne Babb.
Pastor Gabriel Hicks is a graduate of the Supernatural Ministry Training Institute (SMTI), founded by Dr. Mark Barkley, Ministries of Midland, Michigan. He serves within his local community as a member and an aide to the South Georgia Empowerment Project and adamantly strives to educate individuals about local as well national issues that affect and impact their everyday lives.
He became part of and committed to serving at Oasis Church International in March of 1991. Because of his love and compassion for humanity, and his desire to see the hurting and the lost reconciled back unto God, he diligently began leading the evangelism team of OCI as the Outreach Coordinator in June of 1991. As he continued to serve with integrity and faithfulness within the ministry over the course of several years, he was given the responsibility to serve as Resident Pastor of Oasis Church International in 2000, an office which he held until June 2006. He would later become the Senior Pastor at Oasis World Outreach in Americus, GA.
Pastor Hicks is a man of strong family values who loves his children and is happily married to Felecia Cochran Hicks. He is a passionate preacher of righteousness; a lover of God, and all his people, and humbly serves the body of Christ.