OCI - Phenix City
---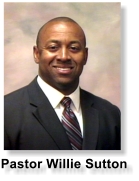 Pastor Willie Sutton is the Senior Pastor of Oasis Church International in Phenix City, the headquarters church for "ONE CHURCH (5) LOCATIONS�. Pastor Sutton became the Senior Pastor in June 2006 one year after retiring from the U.S. Army after 23 years of faithful service. He yielded to God's calling for him to lead His Army now and help build the Kingdom of God in the local church.
Pastor Sutton started working in ministry in 1992 when he was ordained as a minister at New Harvest Outreach. In his early years working in ministry, he served in many different places and capacities to include, street evangelism, prison ministry, and teaching bible studies outside the church walls. He founded the Cadet Candidate Christian Club at the United States Military Academy Preparatory School, Fort Monmouth New Jersey where Cadet Candidates and future military leaders took their rightful places not only in the U.S. Army but in God's Kingdom. While assigned to serve a tour in the combat zone of Kuwait, Pastor Sutton worked as the Assistant Pastor at Camp Doha for the gospel service. He served as a Youth Teacher and Home Bible Fellowship Teacher for several years at Faith Fellowship World Outreach Ministry, Sayreville, New Jersey before being reassigned to Fort Benning, Georgia for His final military assignment.
Pastor Sutton and his wife Carole share the passion of Building the Kingdom of God at Oasis Church International, Phenix City. God has placed a fire inside of Pastor Sutton for winning souls, and helping God's people take back from the enemy what is rightfully theirs through inheritance by Godly wisdom, knowledge, and divine boldness. His aggressive preaching and teaching of God's word is a training ground for those recruited to be in the Army of God.
| | |
| --- | --- |
| | Pinnacle Preschoolers (4 to 6 years old) – Team Leader Mrs. Quantera Vidal |

| | |
| --- | --- |
| | Kingdom Kids (1st thru 5th graders) – Team Leader Mrs. LaTasha Sanks |

| | |
| --- | --- |
| | YAMS (Young Adult Ministry ages 18 thru 28 years old) – Team Leader Ms. Jennifer Warren |