WELCOME
TO PRAISE UNLIMITED MINISTRIES, INC.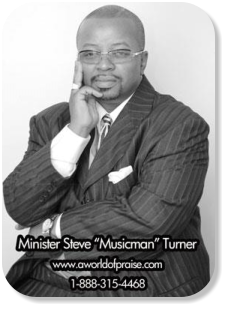 During this divine season of love and hope, we here at Praise Unlimited, would like to take the opportunity to say thank you, for allowing us to be a part of your ministry in 2011. As the year 2012 arrives continue to consider our Services for your Christian Events
Here is a Small List of Our Many Services
"The On-Call Organist!"

Emergency response for Musical Re-placements Minister Steve Turner & Praise Christian Jazz Band

Special Occasions/Banquets Emunah/Spoken Word

Preached Word ST Ministries / Master of Ceremonies/ Church Theme Songs, Jingles, Voice-Overs. "Praise Power 88 Promotions / Community Concerts/ "Praise Power 2009/ 2011!" "Free-Praise Artist Showcase!"

Outside Music Outreaches. Praise Unlimited Consultant Group

Music Consultation for Start-ups & Troubled Music Ministries and much much more As the year comes to a close, feel free to immediately contact us at: 1-888-315-4468 Toll-Free If you need an Organist, Soloist, Master of Ceremonies For any Church service: Christmas Eve, Christmas Day, New Years Eve, New Years Day May your Holiday Season and all the days after be blessed, and filled with Love, Peace, and Happiness!



Sincerely yours,
PRAISE UNLIMITED MINISTRIES, Inc.
Steve Turner / President