Pastor J. W. Russell, Jr.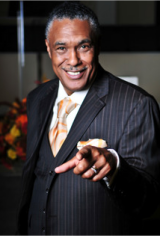 Pastor J.W. "Jake� Russell, Jr. was born on December 29, 1948, to Pastor J.W. "Jack� Russell, Sr. and Emily Russell and raised in Newnan, Georgia. He was educated in the Coweta County Public School System, graduating from Central High School in 1967. He attended Beulah Heights University, in Atlanta, Georgia, where he received further knowledge of God's word and directives to assist with his God given purpose of ministry.
As a young child he joined Providence Baptist Church. As he became of age and gained spiritual maturity, he was then appointed as a deacon of the church. During this time, his ministry began to blossom as he served the church and others without question.
In October of 1968, he met his soul mate in Manchester, Georgia, Ophelia Clark. They were joined in holy matrimony in June of 1971. To this union three children were born. His family was always at the forefront of his life. He believed in continued courtship in marriage and made it a point to plan dates with his wife. Some of their favorite private times together were spent going to the movies. His other personal interests included bowling, motorcycling, playing with dogs, and spending quality time with his children and grandchildren.
At the age of 45, he became the pastor of Central Baptist Church of LaGrange, Georgia and Saint Smyrna Baptist Church of Newnan, Georgia. After six years of pastoring both congregations, he was called full-time to Saint Smyrna Baptist Church. With twenty-eight years of service with the Georgia Power Company, he decided to retire and go into the ministry full time. Pastor Russell was a man of vision and lived his life as such. As his ministry continued to unfold, his beliefs were always surrounded by love, servitude, and giving praise to the Lord. His vision included teaching and preaching the word of God to everyone he encountered. Even when words were not spoken, his smile and his life were consistent in ministering to anyone with whom he would come in contact.
He was currently the Senior Pastor of Saint Smyrna Baptist Church, Inc., where his mission was to teach, lead and guide his members to salvation. He had been teaching and showing the Saint Smyrna Baptist Church how to live and walk for Christ for 16 amazing years.
In addition to everyday living and ministerial responsibility, he shared his love and talents throughout the community. He was a board member of the Community Action for Improvement, (CAFI) and a Committee Member to implement the "Weatherization Program,� set by President Obama, to help weatherize homes of the elderly, disabled, and unfortunate families in surrounding counties. He was President of Divine Entertainment (A Christian Play Company), a Board Member of the LEAP foundation, Vice President of Newnan-Coweta County Ministerial Alliance, Dean of the Congress of Christian Education of the Western Union Baptist Association, and an Executive Board Member of the Atlanta Mass Choir.
Being a great mentor in the Coweta County School system, he also helped teach hundreds of kids how to believe in themselves, and to know that they are somebody. He was instrumental in implementing a mentoring program and served as past PTO president of Western Elementary School. Pastor Russell was a past Board Member of the Boys and Girls Club, a Board Member of the Parent Advisory Committee for the Coweta County Health Department and Vice President and a member of the NAACP of Newnan, Georgia.
In 2009-2010, Pastor Jake Russell, Jr. was selected Omega Psi Phi "Man of the Year. Always giving back to the community, J.W. served as a Board Member of the Newnan/Coweta County United Way and a Board Member of the Newnan-Coweta County March of Dimes/Walk America.
Pastor Russell's ministry was distinctive in that he preached under the anointing of deliverance for God's people. He believed that abundant living was revealed and realized through the preaching of God's Word. His messages resonated with people of all walks of life and spoke to today's issues. His special scripture was:
Not by might, nor by power, but by my spirit, saith the Lord of hosts.
Zachariah 4:6