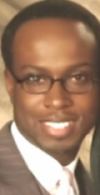 Anthony F. Harris is the founder and Senior Pastor of The POWER Center Church in Las Vegas, Nevada, a Spirit-filled nondenominational church dedicated to empowering God's people through teaching the Word of God, being filled with the Spirit of God, and by working the power of God that is working in us. He was born and raised at the Vegas View Church Of God In Christ under the leadership of the late Superintendent Claude H. Parson. As a youth it was evident that there was an anointing upon his life to serve God by preaching the gospel and leading people. But as Jonah did, he ran from this calling until his sophomore year in college when, while he was dancing in a club under blaring music, He heard the voice of the Lord say three times, "IT'S TIME!"

This experience caused him to rethink his life and later that summer gave his life to the Lord while a part of a mighty youth revival that lasted the rest of the summer in which dozens of young people were saved and filled with the Holy Ghost. He accepted his call to the ministry during that time and began preaching at the age of 20. He became a licensed minister at age 22 and an ordained elder in the COGIC at age 25. The Lord spoke to him again in October 1998 and told him "Prepare to Pastor." He founded the New Dominion Church Of God In Christ in September 2000 with four members. During that time, the struggle was great but God kept the young church. Throughout the years many have come and many have gone but God has remained faithful. In 2011, the Lord spoke to Pastor Harris to inform him that change was coming. In January 2012, under the directions of the Holy Spirit, The church became an independent, nondenominational church and changed its name from New Dominion Christian Center to its current name- THE POWER CENTER!

During the early years of the church, Pastor Harris continued with his educational pursuits. He received his Bachelor of Science degree in Human Services (BSHS) and his Master's degree in Social Work (MSW) from the University of Nevada, Las Vegas. He is licensed as a Licensed Clinical Social Worker (LCSW) and Licensed Alcohol & Drug Counselor (LADC) in the state of Nevada. He is the owner and Clinical Director of Discovery Life Management Services providing mobile mental health therapy services for children, adolescents, adults, and families who are economically challenged. He is currently a doctoral student in Social Psychology at Walden University and will be pursuing his Master's degree in Divinity from Regent University.

His passion is public speaking and has presented seminars for mental health agencies, child advocacy organizations, churches and other religious organizations, and other social services agencies. His interests include religious issues, race and class issues, and men's issues.

He is the President of the Board of Directors for Petra-Nia Training Institute and the former Co-Chair of the West Las Vegas Advisory Board in Las Vegas, Nevada, a liaison between West Las Vegas and the Las Vegas City Council.

His desire is to see God's people empowered by the Word of God, by the Spirit of God, and teach God's people the importance of making godly choices to exercise the power of God working in them. BE EMPOWERED!

He is happily married to the beautiful Elnora Harris and the proud father of three awesome children, Sydni, Regan and Anthony II (LA).