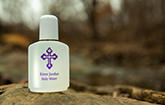 For your love gift of $25 or more - The Word network will send you a special bottle of water taken directly from the Jordan River where Jesus was baptized. Luke 3:22 tells how "the Holy Spirit descended on him in bodily form like a dove and a voice came from heaven saying: "You are my Son, whom I love; with you I am well pleased." The Bible lists several scriptures where water was used to spiritually cleanse, purify and heal.

Now you can own a bottle of precious water from the river Jordan that was blessed and prayed over by Prophet Brian Carn. Order several to use for special occasions or give as gifts to family and friends! Call today and we'll rush this special treasure to you immediately!

The phone number is: 855-730-9673.Thank you for your generous love gift. Because of your continued support and partnership, we're spreading the gospel of Jesus Christ to a lost and hurting world!