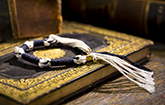 For your generous donation of $27, The Word Network will send you a gift both men and women can enjoy! This unique blue and white prayer bracelet is tied with 5 knots and a tassel, like the ones on each corner of a Jewish prayer shawl - a symbol of prayer and faith for thousands of years.

Matthew 9:20-21 talks about a woman touching the hem of Jesus garment and believing, "If I may touch but his clothes, I shall be whole!" Wear your prayer tassel as a daily reminder of your faith – give one as a gift to family and friends.

Call 855-730-9673 now and your bracelet will be rushed to you immediately!