Fail Up & 50 Things Books ($97.00)
---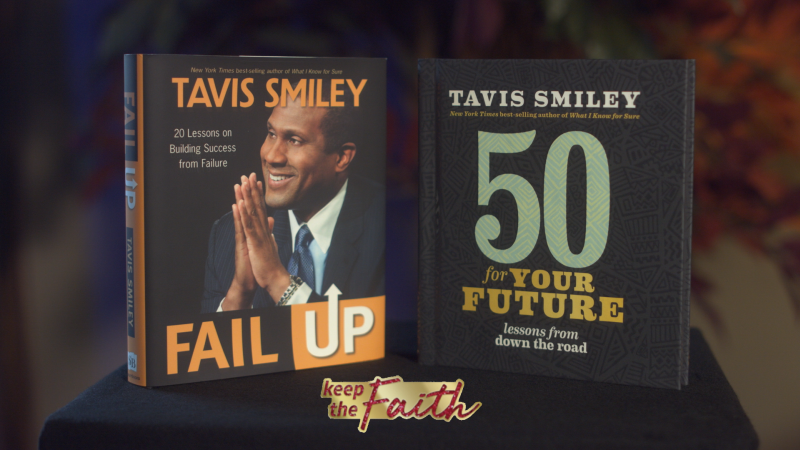 I hope you've been enlightened, encouraged and empowered by our "The Best of Tavis Smiley" conversations. To join us as a partner to help us continue our commitment to produce programming for this network that is uplifting and inspiring, I want you to have 2 of my books that I know that are going to help you step into your authentic life. The first book is called:

Fail Up: 20 Lessons on Building Success from Failure.

The great writer Samuel Beckett once said, "Ever tried. Ever failed. No matter. Try again. Fail again. Fail better."

These words have served as inspiration for the success I've been blessed to enjoy. In this book, I reflect on 20 of the worst missteps, misdeeds and miscalculations of my life and how these so-called failures became the principals and practices that I employ even today. The second book is called:

50 for Your Future: Lessons from Down the Road

This book, gorgeously illustrated in full color explores 50 bits of wisdom that I've gleaned from my relationships over the years with cultural luminaries and personal mentors like Rosa Parks, Maya Angelou, Harry Belafonte, and of course, my precious grandmother "Big Momma". I've learned lessons like:

how your values create your value;

how to not let your reservations become your regrets;

how to live by your hopes and not your fears;

how to bear the burden of love.

As my personal thank you, for your gift, I'm also going to send you our lovely "Keep the Faith" lapel pin. Throughout my broadcast career, I have closed every show with these 3 words, "Keep the faith." Now, you too can encourage others to "Keep the Faith" when you sport this beautiful lapel pin.

You get:

- the 2 books: Fail Up and 50 for Your Future
- our gorgeous "Keep the Faith" lapel pin
- a personal letter from me

I believe these 2 books are going to help you just as they have helped thousands of others who no longer want to live beneath their privilege.

Thank you for your support.

Order below by clicking the "Donate" button and following the prompts, or call 1-855-730-WORD (9673).