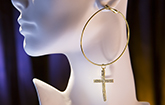 This month, for a donation of $25 or more, The Word Network will send you these unique, gold hoop earrings, each adorned with a sparkling rhinestone cross.

These trendy hoops will make a stunning fashion statement and a powerful declaration of your Christian faith. Gold is mentioned many times in the Bible representing the divine nature of God. The circle symbolizes eternity and the cross is a precious reminder of what Christ did for you.

These fashionable, large hoop earrings will appeal to women and teens and make a perfect gift for someone special. Call or click now and these beautiful earrings will be rushed to you immediately.