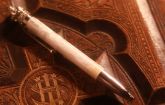 For partnering with us this month, "The Word Network" would love to send to you this beautiful pen.

This gift to you resembles polished marble, and the crown speaks of our crown of life we'll receive in heaven. Christ commanded in Matthew 28, "Go therefore and make disciples of all the nations, teaching them to observe all things that I have commanded you…

By supporting us today, together, we are helping fulfill that great commission. Call today! The phone number is 1-855-730-9673 or International 001-855-256-9673.