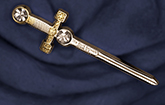 The Bible says in Hebrews 4:12, "For the word of God is living, and powerful, and sharper than any two-edged sword." This month's "love gift" represents just that!

For your donation of $10 or more we want to send you this stunning simulated diamond and silver lapel pin. Wear it proudly as you partner with us in proclaiming the Gospel of Jesus Christ to the four corners of the earth, bringing the hope of salvation to a lost and dying world.

Giving to the Lord is the highest form of worship, and we need you today…Call today!The phone number is 1-855-730-9673 or International 001-855-256-9673.