Our Pastor
---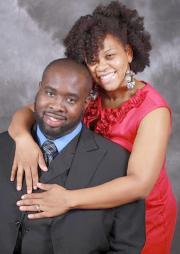 A native of Detroit, MI, Rev. Garrett gave his life to Christ at an early age and served at his home church, Gospel Temple Missionary Baptist Church under the pastorate of the Rev. Joseph Edward King. Ordained at age 20, he began operating in ministry under the Rev. Dr. C.P. Noble at the Greater St. Mark Missionary Baptist Church. Rev. Garrett served as Youth Minister and spearheaded youth functions and Bible studies, Evangelism and Outreach ministries. Focused and faithful, Rev. Garrett was called to pastor at the Bethlehem Missionary Baptist Church of Phenix City, AL in July 2014.

A graduate of Selma University (B.A.- Business Administration, 2014) where
he served as the Vice President of the Ministerial Union, Rev. Garrett is
currently studying to receive his Masters degree in Divinity from the New
Orleans Baptist Theological Seminary. He is also currently serving in Phenix
City as the Vice President of Christian Education for the East AL Progressive Association and He also uses ownership of the Resurrection Cuts Barber Shop to minister in the city of Tuskegee. Happily married to his wife of 9 years, Christina, they have four children, Steven (age 7), and Isaiah and Anaya (twins, age 5), and the newest addition, Baby Micah.

A man who is devoted to God and family, Pastor Garrett looks to exemplify Christ in all he does. His life is dedicated to emulate Paul's letter to Timothy (1Tim 6:11-12), to fight the good fight of faith, lay hold of eternal life and to profess a good profession before many witnesses.