ChurchWebsite.TV - Latest Release - Pastor Marvin Winans and Perfecting Church
---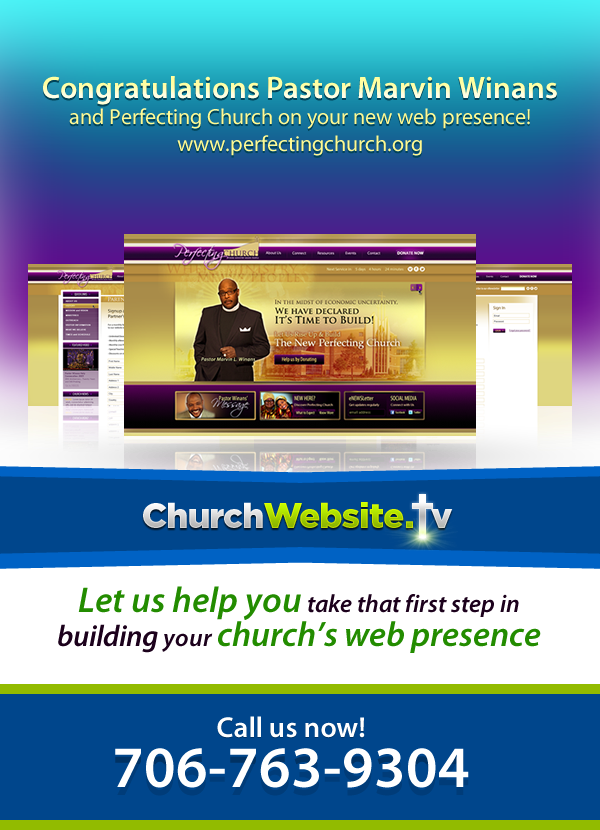 ---
ChurchWebsite.TV - Latest Release - Karen Bethea Ministries
---
Congratulations Dr. Karen Bethea ( Karen Bethea Ministries ) on your new web presence located at

http://www.ksbmin.org
---
GETTING VISITORS TO YOUR WEBSITE !!!
---
Google is still king of the search engines. Try this. Goto www.google.com type your city / State and the word church, such as church in Marietta, Ga - Does your church show up on the first page ? If not you could be loosing visitors to your website and perhaps visitors through the front doors.
Google offers several services for getting traffic or more visibility on Google. Google Places, Google Ad-words Express and Google Ad-words.
Google's free service is called

Google Places.

You can get set up here.
(
http://www.google.com/local/add/analyticsSplashPage?pli=1
)
Google also offer paid services called Google Ad-words express and Google Adwords. You are allowed to bid per key word or key word phrase to come up first in your city or local area. Please be careful to set budgets when paying for the Google Ad-words or Adwords Express.
We will talk more about Ad-Words or Adwords express in an upcoming blog.
Please note - when you activate either of these services, you need a website that is engaging once a visitor visits. A website can be great or bad first impression for potential visitors or potential members
Are you interested in a topic for us to blog about ?
Click to suggest a topic for us to blog about.


INTERACTIVE WEBSITES STARTING AT $249 CALL US AT 706-763-9304
---
Latest Release - Life Changers Church International
---
Congratulations Pastor Warren Curry and Life Changers Church International on your new web presence located at

http://www.lifechangerschurchintl.org.




---