Our Pastor
---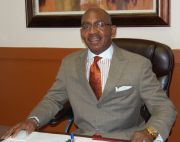 Just as Elisha asked for a double portion of Elijah's anointing, Earnest has been endowed with a rich spiritual legacy, and has humbly accepted this mantle by answering the call of God on his life.
Born to be a world changer on July 3, 1959 to the Late Bishop Benjamin Franklin and the Late Betty Mae Jackson, Earnest, one of six children, started out singing at his Dad's church (St. John M.E.R. Church, Elizabeth, NJ) on the youth choir. It was during these early years that a Christian foundation was laid and his amazing singing gift was discovered and nurtured. It was often said because of vocal ability, that Earnest sounded like his idol, Stevie Wonder.
He attended the Elizabeth, NJ public schools and graduated from Thomas Jefferson High School in 1977. Earnest pursued a career in advertising design and received a degree from the Newark School of Fine Industrial Arts in 1980. He then worked as a commercial artist for several years.
He has been married to his high school sweetheart Gwen for 33 years and they have two children, Justin and Phylicia.
An accomplished singer and songwriter, Earnest expresses his love for God through the many songs the Lord has given him. At the age of 18, Earnest discovered the gift of song writing. Subsequently, at the age of 21, his first song was nationally recorded by one of gospel music's legends, Dorothy Norwood. He went on to write and record songs for artist such as Milton Bingham Revival Temple Mass Choir of Newark, NJ, Richard "Mr. Clean" White, Stefanie Minatee & Jubilation, Vincent Freeman and his little sister, two time Stellar Award Nominee, Nancey Jackson-Johnson.
In 1991 he left his father's church in his quest to discover he ultimate call of God on his life. Earnest served in local ministries where he began to grow in the things of God as well as receive training in ministry. In October 2007 Earnest was licensed to preach the Gospel under the leadership of Pastor's Bryan & Antoinette Attinson at Christ Church of Howell, NJ.
In May of 2009, the Lord led Earnest and his wife, Gwen back to his father's church to assist him. After the death of his father in December 2009 Earnest was ordained as an Elder by his spiritual father, Bishop Robert Jiggetts in Feb. 2010.
In March 2010, Earnest was appointed and installed as the Pastor of St. John MER Church, continuing the legacy of his father. In addition, under his leadership, the church officially changed its name to Greater St. John MER Church, acknowledging that "A change, it's new, it's here, it's now." Isaiah 43:19
Pastor Earnest's anointing and passion for God's word exudes from his powerful and effective message and can be felt in his electrifying and passionate worship leading.
Through his parents examples of faithfulness love of God's people there is no wonder why Pastor Earnest's heart is the same. His devotion and commitment to encouraging God's people is evident in the life he lives.