Pastor Allen
---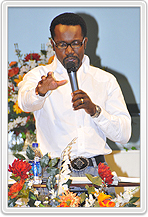 James E. Allen was born November 13, 1967, the fifth of eight children born to Mattie L. Minter. He was educated in the public schools of Mobile, Alabama where he graduated from Williams High School. In June of 1986 he enlisted in the United States Army as a supply specialist where his exceptional Leadership skills were discovered.
In only four years he rose to the rank of Sergeant (promotable to Staff Sergeant). He successfully completed several leadership development courses, to include Primary Leadership Development Course) and (Basic Non Commissioned Officer Course. He was also awarded his Parachute Wings in 1990 after graduating from the Airborne Academy by making five Qualifying jumps from a C-130 and a C-141 Aircraft. Because of his exceptional Leadership skills he was awarded the Army Achievement Medal four times, as well as the Good Conduct Medal in 1986 and the Non commissioned officer Professional Development Ribbon in 1991.
Pastor Allen has applied these same leadership skills to ministry and has produced great results. In 1991 after leaving the army he was called to serve as the 'Senior Pastor' of Macedonia Baptist in Columbus Georgia. At the age of 23, he was the youngest Pastor to serve in the history of the eighty year old church. He served in that capacity for seven years and saw the membership size double as well as a major increase in the church finances. In 1998 God provided a vision for Pastor Allen to organize the Macedonia Christian Ministries that has now become a thriving and successful ministry!
Through Pastor Allen's leadership, he has now established Dominion Outreach Christian Ministries. The primary focus of this ministry is community development. This ministry includes Dominion Assisted Living Facility, as well as Dominion Children's Academy which cater to the youth and the elderly in our community.