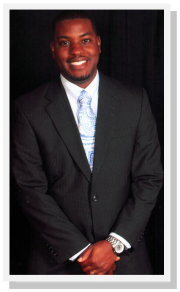 Pastor Destin Lateef Williams began his faithful walk in preaching the WORD of GOD in the Spring of 2009. Pastor Williams a member of Mt. Carmel Baptist Church since the Winter of 2011, counts it all joy to take on this awesome task. GOD does things in HIS timing and all things are pre-destined, so in 1979 the ninth month and the eighth day. Pastor Williams was born to Gilbert Williams and Aida Wiggins in Memphis, Tennessee. He was baptized at the tender age of 12 into the body of CHRIST at Princeton Avenue Baptist Church.
He is a graduate of the Tennessee State University (Nashville, Tennessee) 2002 and received a Bachelor's degree in Business Information systems. In 2004, Pastor Williams decided to further his career and worked on his Master's degree attending Union University (Jackson, Tennessee) receiving a Master's degree in Business Administration in 2005.

Upon returning back to Memphis after undergraduate school, Pastor Williams reconnected with the fellowship at his home church, Princeton Avenue Baptist Church. At this time, Pastor Williams held various positions, serving as a deacon, trustee, Sunday school teacher, Sunday school superintendent, associate minister, armor bearer, and Youth leader.

Pastor Williams, in 2002, worked in human resources at the State Department of Tennessee. This career has strengthened and deepened his commitment to mankind. After four years of employment with the State of Tennessee, Pastor Williams , in 2007, became employed with Nationwide Insurance Company where he began in the Claims Department as a Claims Adjuster and is currently a Commercial Underwriter. Pastor Williams has grown and developed through various experiences and trainings afforded to him by Nationwide Insurance Company.
Notification was given that the Nationwide Insurance Company offices would be closing in Memphis, Tennessee and employees would have to relocate to Gainesville, Florida. In 2010, Pastor Williams and his family moved (journeyed) to Gainesville, Florida. Mt. Carmel became their church family in February of 2011. Pastor Williams since joining this fellowship has held various positions, serving as Sunday school teacher, Sunday school superintendent, associate minister, and Youth leader.

A man after GOD's own heart, has embraced the calling to preach GOD's WORD and with great expectation knows and believes the best is still yet to come.
Pastor Williams brings with him his lovely wife Alisha Renee' and two beautiful daughters, Destini Renee' and Alexandria Renee'. Together they vow to worship GOD.