Our Pastor
---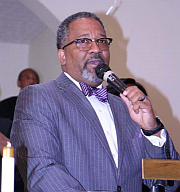 Dr. Crocker matriculated through the educational system of Columbus Ga. as a 1979 graduated of Baker High School. He earned a Bachelor of Science Degree from Morehouse College, Atlanta, 1984. He completed a Masters in Biblical Studies, 2011, he successfully completed course work for both a Masters of Divinity Equivalency, 2016, and completed course work, defended and received his Doctors of Ministry degree from Beulah, that same year. He and one other student made history by being the first Cohort of Beulah Heights Doctoral Program.
Having a passion for those in need of a second chance, he serves as the Staff Chaplain at DeKalb County Sheriff's Office in Decatur, Ga. Dr. Crocker's primary role is managing the faith based community of Chaplains as they are assigned to encourage the employees of the DKSO and support spiritual awareness through life skills development for offenders and those who struggle with co-dependency and/or low self-esteem within the rehabilitation process of all faiths.
Dr. Crocker has been involved in ministry for over thirty years and was Licensed and Ordained at New Mercies Christian Church in Lilburn, GA under the tutorial of Pastor Jesse Curney, III. Pastor Crocker is a charter member of New Mercies and proud to have served as the Pastor's aide for the over 10 years until called to serve as Pastor of Metropolitan Baptist Church in 2012. While at New Mercies he served in many leadership roles. He has served as a Deacon, Founding Director of Noble Warriors Men's Ministry and instructor of Theology for New Mercies Institute of Ministry & Theology, co facilitator of The Noble Warrior Men's Bible Study, A Team Community Leader for the Snellville cluster of The Noble Warriors men's study group and Director of Prison Ministry.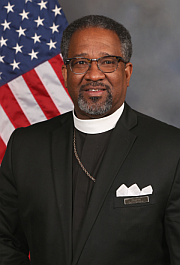 Dr. Crocker is active in the community of Columbus and Metro Atlanta. He is a member of the Georgia Association of Chaplains, a certified instructor with Mount Calvary School of Christian Education, leader of the Pastors and Ministers Division of the 4th District of GNBC, an active member of the IMA of Columbus, member of Leadership DeKalb, Omega Psi Phi Fraternity, Inc. Lambda Iota Chapter of Columbus, a Silver Life Member of NAACP, The Mayors Commission to End Homelessness in Columbus, Member of Ga. Law Enforcement Chaplains, member Mount Calvary Association, member GNBC 4th District, graduate of the Pastors Academy Columbus Police Department, etc. He has also serves on several boards and commissions in an effort to reduce crime, poverty and the drop-out ratio. Dr. Crocker has aligned himself with the educational system of Muscogee County for the sake of impacting youth as he partners with Martin Luther King Elementary and Spencer High Schools of Columbus, Ga.
Dr. Crocker believes in the infallibility and inerrancy of the bible, the triune of God, the virgin birth, the deity of Christ, the all sufficiency of Christ's atonement of sin, The physical and on the work of Christ alone, The physical bodily return of Christ to earth, The eternal conscious bliss of the saved and the eternal damnation of the unsaved. His favorite scripture is John 12:32, as Jesus stated in this discourse, "And I, If I be lifted up from the earth, will draw all men unto me."


Since accepting the call to Metropolitan Baptist Church, there has been substantial growth in many areas such as the youth and young adult ministries, outreach ministry, food pantry, worship and arts department, media ministry, and Scholarship Programs.

Dr. Crocker believes in fellowships that crosses denominational lines for the sake of 100% opportunities of spiritual growth amongst God's children as the mission of the church is "We are a growing church for growing Christians, building the Kingdom, One soul at a time." He is humbled to serve God, his family, the family of Metropolitan Baptist Church and the community at large. Dr. Crocker is married to Lesha and is the proud father of two beautiful children, Curtis III and Joycelyn Nicole and one grandson Curtis Jamal.