Our First Lady
---
BIO of LUCINDA EVANS-JACOBS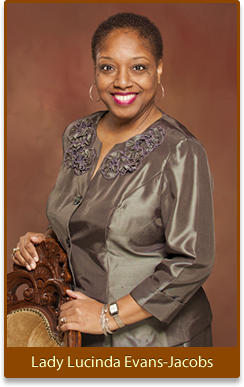 Personal:


The daughter of Mr. Melvin and Lucille Evans. She has been

Married to Apostle Kennedy E. Jacobs, Sr. for 25 years and the mother of four beautiful children; Kennedy, Jr., Kevin, Kendra and Kenli.



Education:


Attended Westside Elementary, Mainland 7th Grade Center, Campbell Junior High and Graduated from Mainland Senior High School in June 1983. Attended Bethune-Cookman College now known as Bethune-Cookman University and graduated with a Bachelor of Science degree in Psychology in May 2004 and a minor in Elementary Education.



Career:


Lady Jacobs taught in the Volusia County public school system; first as a Paraprofessional and later as an ESE Teacher at Turie T. Small Elementary, and New Smyrna Beach High School.

She is now currently the Lead Teacher/Director of Canaan Preparatory Academy Preschool in Daytona Beach.



Awards/Honors:


Lifetime member of Psi Chi the National Honor Society in Psychology; and Kappa Delta Pi the International Honor Society in Education. Lady Jacobs received the Hometown Hero award along with her husband, Apostle Jacobs, at the Juneteenth Family Festival Banquet in 2004.



Associations:


Lady Jacobs became a charter member of the National Council of Negro Women in 1996 and a member of AB Psi (Association of Black Psychologists (Student Circle) in 2002. Was a longtime member of the national recording ensemble known as True Spirit Ensemble later known as TS Chorale that was founded by Apostle Jacobs in the late 80's. She is an active member of the Living Truth Christian Center serving in the Living Voices adult choir, praise team, leader of the Women's Ministry and member of the Ministerial staff.

But most of all, she found Jesus at the age of fourteen and has been serving Him ever since. She can truly say that she is a woman of God who is the head of her life and who is everything to her!