Our Pastor
---
Kennedy E. Jacobs Sr.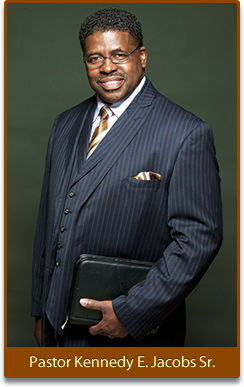 Kennedy E. Jacobs Sr. was born in Tampa, Florida where he was reared as a child. After the loss of his father in November 1984, Mr. Jacobs received the gift of salvation at 18 years of age at Allen Chapel A.M.E Church in Daytona Beach, Florida.

After serving three years active duty and six years inactive reserve, Mr. Jacobs received an honorable discharge from the United States Army in 1992. By grace Mr. Jacobs received his call in ministry in 1989 and was licensed and ordained in 1991 at Mount Bethel Institutional Baptist Church. A graduate of Bethune-Cookman College, Mr. Jacobs received a Bachelor of Arts degree in Religion and Philosophy in June 1996. Currently he is a Master of Divinity student at the Howard University School of Divinity with a projected graduation date of May 2013. After receipt of his Master of Divinity, Mr. Jacobs plans to pursue doctoral studies in religion.

His professional career has been impacted by many diverse experiences within religious and secular arenas. He has used his military experience as a telecommunications operator to serve in the public service of the local law enforcement, Division of Driver's license for the State of Florida. Privately he has been recognized by several corporations as a great asset to the management team and to the overall outcome of the productivity and success of their companies. He has contributed over 10,000 volunteer hours in serving his community, local government and mentor within the local school system.

He stands as an advocate for the marginalized. His devotion to God and community cannot be raised without acknowledging his love for family and his devotion to his loving wife of 26 years and four beautiful children. He has claimed as his key focus in ministry, "a repairer of the breach, and the restorer of old waste places for men to dwell.� After a 15 year Senior Pastorate in the State of Florida (The Living Truth Ministries Inc), Mr. Jacobs seeks to follow the leading of the Lord in his ministry work here in the Maryland, DC area.

Jacobs functions in the five fold ministry and believes that these offices and ministry gifts have only been instituted for the edifying of the Body of Christ. He continues to prepare the people of God for Christ return.