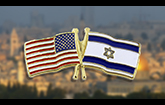 This month, for your donation of any amount, the Word Network would love to send you this American and Israeli flag pin etched in gold. Wear it as a symbol of friendship and solidarity for the nation and its people.

Psalm 122:6 says, "Pray for peace in Jerusalem. May all who love this city prosper." Throughout the Bible God has protected his beloved nation and prospered those who stand by her. Now Christians can show support for our Jewish brothers and sisters, by ordering this patriotic pin. Remember, for your love gift, we will send you this important symbol to proudly proclaim America's friendship and allegiance during this historically important time.

And when you do, the Word Network will do our part by giving a portion directly to different charities in Israel. Call now and this treasure will be rushed to you immediately The phone number is: 855-730-WORD that's 855-730-9673 or go on-line to: The Word Network.org and click the "donate" button. Thank you for your generous gifts and faithful prayers of support for your Word Network. Please remember to pray for the peace and protection of Jerusalem, and for God's chosen people! Shalom!