First Lady
---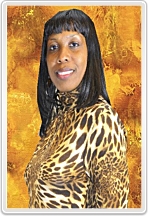 Angela Denise Allen was born February 26, 1965, the fourth of five children of Roosevelt and Sarah Jones. She was educated in the Phenix City school system where she graduated from Central High School in May 1983.
Upon graduation from high school, Angela attended Chattahoochee Valley Community College where she majored in Nursing. Later she attended Phenix City Vocational Center and Columbus State University, both where she focused her studies on Dental Hygiene.
Angela has experienced many successes in career and education, but in the fall of 2002 (October) Angela embarked on what would prove to be the greatest call of her life as she accepted her call to the gospel ministry. She began her training and development at Macedonia Christian Ministries in Columbus, Georgia where she demonstrated her faithfulness to her call (preaching, teaching, and serving) and subsequently on August 21, 2004 she preached her initial sermon at Impacting Families Conference.
Min. Allen is currently in Full-time ministry as the First Lady of Macedonia Christian Ministries. Her duties include assisting her pastor, Rev. James E. Allen, with the day-to-day duties leading a congregation consisting of over 330 members, various ministries, programs, and auxiliaries. Her other duties include serving as a member of the Board of Directors, a Youth Advisor, Member and Coordinator of the Macedonia Christian Ministries Music Ministry consisting of the Mass Choir, Youth Choir and Praise & Worship Team. She is an Administrator and the Personnel Director of Dominion Assisted Living; a five-bed facility designed to provide personal assistance to those in need. She is also an Executive Officer of non-profit organization Dominion Outreach Christian Ministries; an outreach ministry established to build ministries and programs in the South Columbus Community.
Along with her numerous roles and positions, Min. Allen finds great delight in her family. She is the wife and help meet of Rev. James E. Allen, Senior Pastor of Macedonia Christian Ministries, Columbus, Georgia. Additionally she has 2 daughters, Tameca Jones and Brittany Allen.