The MCM Praise Team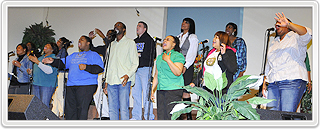 The purpose of Macedonia Christian Ministries Praise Team is to lead the congregation in praise and worship for the first thirty minutes of worship service. Before we can enter into worship, it is necessary to understand the true meaning of worship. We can only give true worship to God from our spirits. John states that, "...God is Spirit, and those who worship Him must worship in spirit and truth..." When we worship in spirit, we are worshipping God with our whole hearts. We must worship by the power of the Holy Spirit.

The Bible tells us that the Holy Spirit dwells within our hearts. Proverbs tells us to worship in truth is to worship and allow the Lord to search the inner depths of our heart. The word of God tells us that we must cleanse ourselves because we cannot worship God in the flesh. It is important that we cleanse ourselves of all fleshly thoughts and evil so that our spirits can worship God by His Spirit.
After School Tutorial
The purpose of the After School Program will be to help better the minds of our children and encourage them to further their education in a higher school of learning. The objective for this ministry is to equip the saints for the work of the ministry. We are committed to equip children spiritually, mentally, physically, and educationally.
This After School Ministry will not only benefit the children in our ministry, but it will serve other children in the community and the surrounding areas. We believe that every child should be given the opportunity to excel in reaching for excellence.